Our Firm
Founded in 2002, Oon & Bazul is one of Singapore's fastest-growing law firms as recognized by Asian Legal Business. The firm is a large leading commercial practice and our lawyers are known for their ability to deliver high-quality work as well as their commitment to helping clients achieve success.

Asian Expertise
Outside of Singapore, the firm's Asian Expertise starts with our Malaysian associate firm, TS Oon & Partners in Kuala Lumpur, with which our partner Mr. Oon Thian Seng helms and with whom we work closely on matters in Malaysia and involves Malaysian law. Apart from Malaysia, we have avoided formal tie-ups as our strategy is to work with the best lawyers throughout Asia, to ensure that we can always engage the most suitable professionals in the required practice area regardless of which firms they come from.
Apart from English, our lawyers are also fluent in several languages including Mandarin, Bahasa Melayu, Bahasa Indonesia, Tamil, Japanese and Korean so as to bridge language and cultural barriers in major non-English speaking Asian countries."
Global Reach
The firm has a sterling international law practice dealing with matters across continents which has led our lawyers to be particularly adept at coordinating matters involving multiple jurisdictions. We have also developed an extensive informal network of law firms whom we have worked with over the years.
Our clientele includes sovereign states, Fortune Global 500 corporations, large multinational corporations, financial institutions and high-net-worth individuals.
Service Standards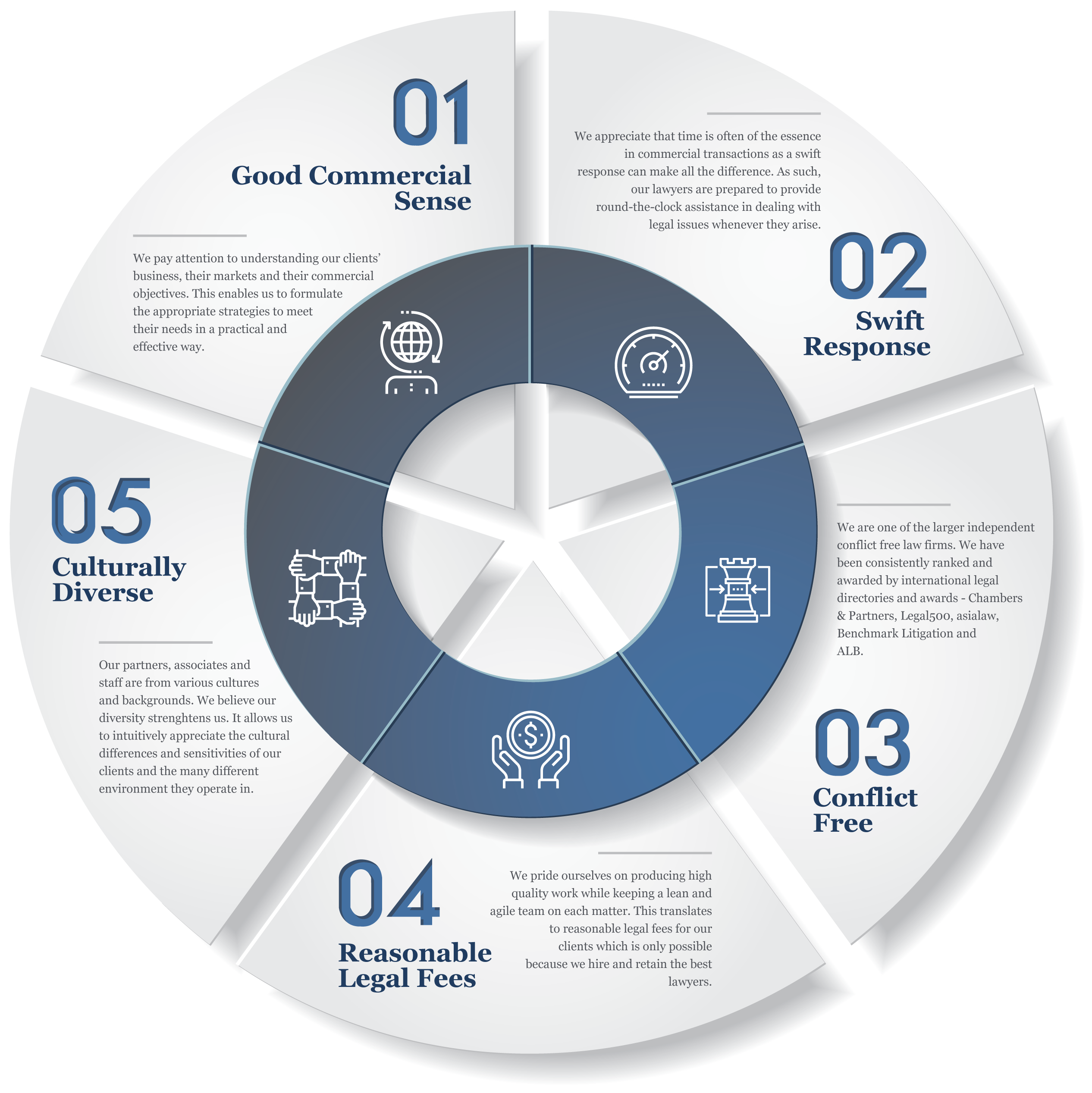 Diversity, Equity and Inclusion
At Oon & Bazul LLP, we see Diversity, Equity & Inclusion (DEI) as a core value of the firm and embedded in our firmwide strategy.
As a people organisation, we strive to foster a welcoming, inclusive, dynamic and intellectually stimulating environment for our people, challenging them to achieve their full potential professionally and personally. Our partners, associates and staff come from many different cultures and backgrounds. We celebrate diversity across all spectrums and cherish viewpoints that help us better understand our circumstances, recognise trends and anticipate the future. It allows us to intuitively appreciate the cultural differences and sensitivities of our clients and the many different environments they operate in, enabling us to provide them with excellent and well-rounded service.